Do you remember the day of filming the show ?
Yes, I checked out my logbook and the exact dates are 15,16 & 17 of Nov' 83. On the 15 of Nov' we did a rehearsal flight, and the other 2 days there were a French and an Italian version.
(The show was broadcasted on "Channel 2" May 6, 1984)
Where was the Bell Jet Ranger CH 555 coming from ?
The helicopter was based in N° 4 Squadron SLAF Base Katunayake.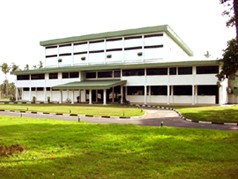 White and Red colors are unexpected for a military helicopter ?
All SLAF helicopters were painted in red and white before the war broke out in Sri Lanka...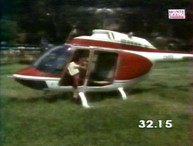 Did your base house the film crew ?
No, Katunayake was too far from Kandy. We stayed at hotel Topaz, Kandy.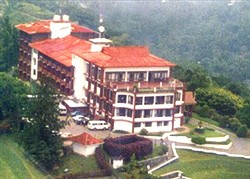 Do you know why you were chosen for this flight ?
I had no similar flights but I have done several filming flights for various other purposes. May be it was my turn to do a flight according to the roster. It was certainly a novel experience for me and I really enjoyed working with the producers. Kandy was my home town. I was born, bred and schooled there. So I knew the terrain very well and also it was a tremendous honour and pride for me to fly in Kandy.
Did you know the helicopter pilot who flew for the game at Sigiriya in 1982 ?
Yes, the pilot was late Gp Capt Roger Weerasinghe. He died April 29, 1995. He was killed when the aircraft he was travelling in was shot down by a missile over Palaly airfield.
Do you remember if the producers got in touch with you long before the filming ? Do you have a recognition flight for marking out DZ ?
No, all details were given to me in Kandy. The DZ were improvised and selected by me. If the Air Force authorities saw it at that time I would have been in trouble, especially due to the low flying and the landing sites !
| | | |
| --- | --- | --- |
| | | |
| | | |
| | | |
The french reporter Philippe de Dieuleveult said you avoided a catastrophe, avoiding a power cable, do you remember this manoeuvre ?
Yes. We were flying along the contour of the river and right next to the botanical gardens there was a power line running across the river, which I sighted only about when we about 20 metres away. I immediately put the helicopter into steep climb and flew over the power line. It was a bit close and would have been scary for the passengers as they did not know what had happened. However I have had many experiences of this nature in my flying career and even worse ones during the time I flew in military operations. I was once shot in my arm whilst I was attempting to land in Jaffna area.
Did you have some solicitations after the broadcastings in Europe ?
Yes, at that time I can remember that I received a big response from some of the Sri Lankans who were living in Italy after the film was telecasted. Some of the Sri Lankan's living there called me/wrote to me after they saw me on tv. It was only friendly acknowledgement.
What do you think about our idea of a website for « La Chasse aux Trésors » (Treasure Hunt) and Philippe de Dieuleveult ?
Please convey my regards to the Italian reporter. I am sorry to hear about the demise of the French reporter. Your idea will help preserve the memories of the people who were involved in this great production.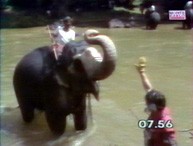 Prasanna Ratnayake had a wonderful military career in Sri Lanka Air Force, he rose to the rank of Air Commodore : « It was a very challenging career. Majority of my flying was in military operations and luckily I survived to tell you my story ! ».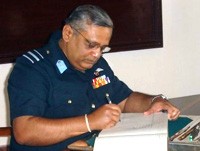 He is on leave prior to retirement and will be retiring fro the SLAF in June 2010. He stopped active flying long time ago. As he went up in his career he was called upon to command air bases and work in SLAF headquarters and as such could not find the time to fly : « It is great to establish contact again. You are bringing back memories of one of the most memorable flights I carried out during my career ! I will never forget this flying under the suspended bridge over the Mahaweli river. This flight under the suspension bridge has been well recorded and I am sure that I would be the only pilot in Sri Lanka who would have done a stunt like this !!! ».
I sent him a record of the show so he can discover, 25 years later : « Thank you very much. It was really thrilling to watch. It brought back many memories of the past. I will treasure this DVD for the rest of my life, because I do not have any recorded ones about the flights I did. ».
Interview done in november 2009